Tianqi Lithium Announces 1H 2021 Results
I. 1H 2021 Results
i. Operating Performance Improved Significantly
1、Profitability and Operating Indicators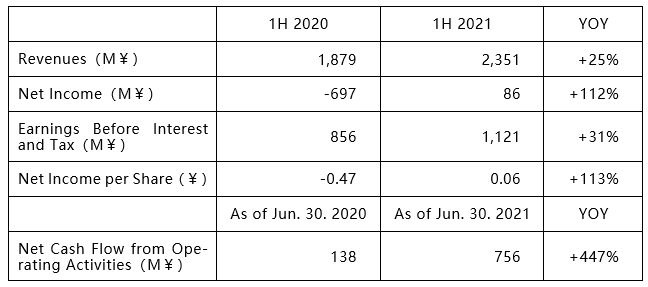 Note:
· The main reasons for the increase in revenues are as follows:
   - The sales volume of the company's main lithium compounds increased by 36.44% YOY, and the average sales price increased by 31.22% YOY.
· The main reasons for the increase in net income are as follows:
   - The sales volume and price of lithium compounds increased significantly YOY, and the revenues and gross profit increased.
   - During the reporting period, due to the changes of SQM stock price, the income from changes in fair value generated by the SQM-B share collar option increased over the same period last year.
   - During the reporting period, the company's interest expenses decreased by 324 million yuan over the same period last year.
2、Gross Profit Margin
In the first half of 2021, the gross profit margin is 51.15%, the gross profit margin of lithium concentrate is 58.80%, and the gross profit margin of lithium compounds is 46.68%.
ii. Asset-Liability Structure has been Improved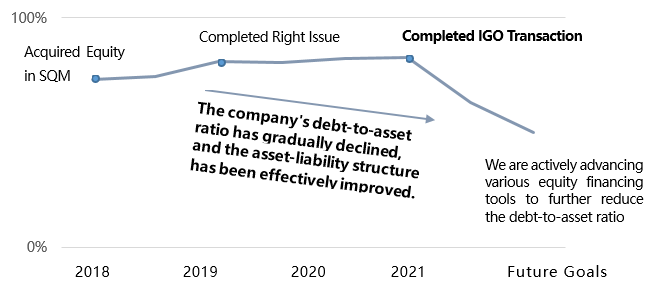 1、In July 2021, we successfully completed the IGO transaction, and repaid part of the M&A loan with the funds obtained from the transaction. Our debt-to-asset ratio dropped to approximately 63%.
2、We will continue to seek appropriate equity financing methods to further optimize the asset-liability structure.
II. Big Events
i. Successfully Completed the IGO Transaction
1、We completed the strategic transaction with IGO in July 2021. IGO acquired a 49% non-controlling interest in the JV through subscription for new shares for US$1.395bn.
2、We formed a strategic partnership with IGO to grow a leading global lithium business.
ii. Smoothly Progressing the Train I of Kwinana
The commissioning of the Train I of Kwinana LiOH Plant is progressing smoothly. The whole process has been completed, and we will strive to produce qualified lithium hydroxide by the end of 2021, and enter the capacity ramp-up phase, reaching the designed capacity in the fourth quarter of 2022.
III. Steady Production and Operation
i. Leading Global Resources and Processing Layout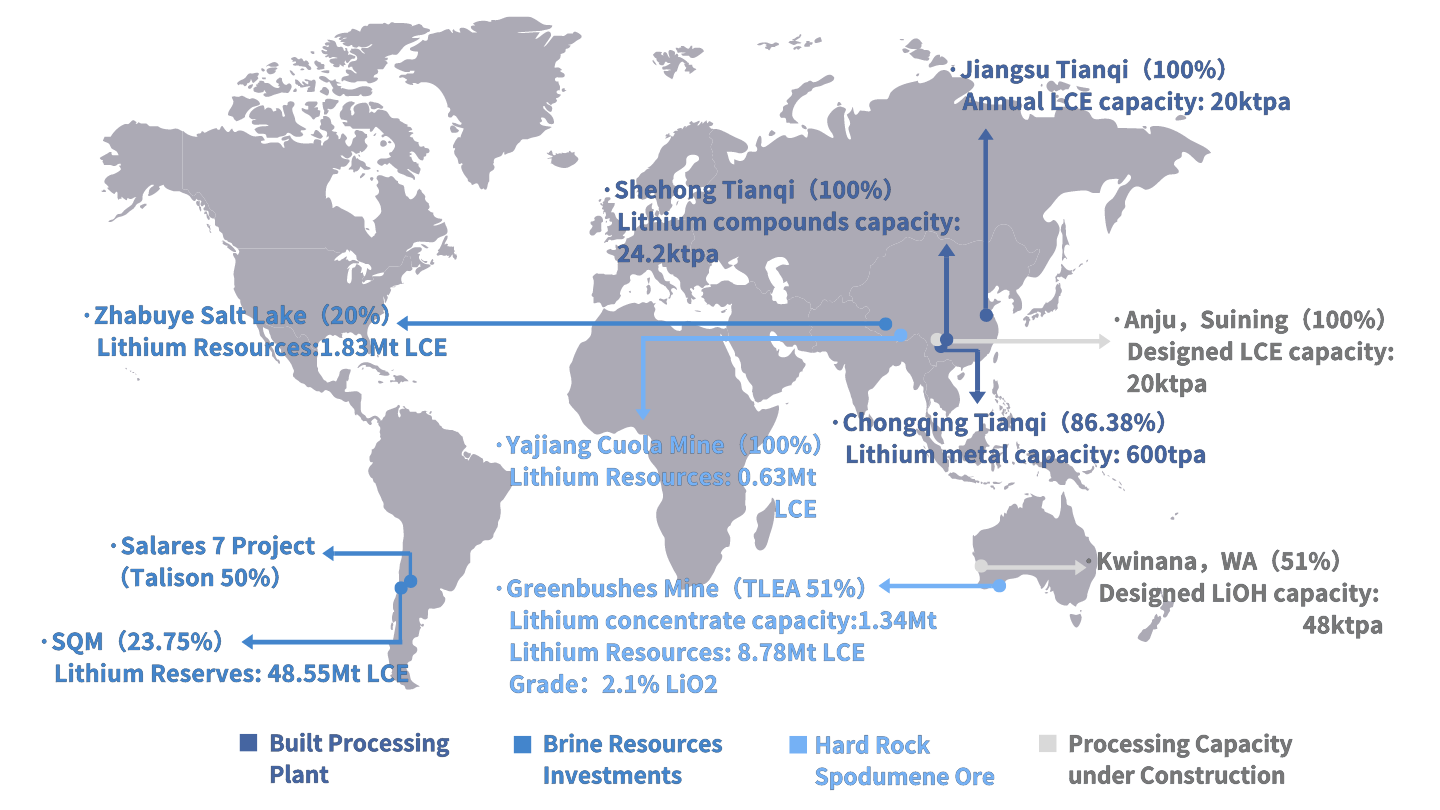 1、Controlled the Best-Quality Hard Rock Spodumene Ore
(1)Greenbushes Mine
· The world's largest lithium mineral producer in terms of LCE deposits.
· Lithium Concentrate Production Capacity
  - The current annual production capacity is 1.34 million tons, including 1.2 million tons of chemical-grade lithium concentrate and 0.14 million tons of technical-grade lithium concentrate.
  - The medium-term planned annual production capacity is 1.94 million tons, of which the third phase of Talison's 0.6 million tons of chemical-grade lithium concentrate expansion project is expected to be completed in 2024.
· 1H 2021 total revenue 1,102 million yuan, net profit 297 million yuan.
(2)Yajiang Cuola Mine
· Western section of Asia's super large-scale Jiajika spodumene mining area.
· Medium and long-term resource reserves of Tianqi.
2、Strategically Invested in High-Quality Brine-Based Lithium Resources
(1)SQM
· It operates Salar de Atacama with high lithium concentration, large reserves and mature mining conditions all over the world.
· SQM's Lithium Compounds Capacity Expansion Plan

  - SQM is producing lithium carbonate in Salar de Atacama at a rate of approximately 110,000 metric tons per year. It expects to produce approximately 140,000 metric tons in 2022.
  - Its sales volume of lithium and derivatives in the first half of 2021 is about 48,100 metric tons. SQM said that it could reach over 95,000 metric tons in 2021.
  - The development of 50,000 metric ton lithium hydroxide plant in Australia is on track to be operating in 2024.
(2)The Zhabuye Salt Lake
· One of the world's top 3 megaton-class lithium salt lakes, with lithium grade ranking second among salt lakes in the world.
· It is a lithium-rich carbonate salt lake with extremely low magnesium-lithium ratio and excellent resource endowment.
· On August 27, Tibet Mineral Development Co., Ltd. announced that it plans to implement a battery-grade lithium carbonate project for Zhabuye. The plan includes an annual output of 12,000 tons of lithium carbonate, and strives to be completed and put into operation in 2023.
(3)Salares 7 Project
· Lithium and potassium exploration projects, including 7 salt lakes in the Atacama region of northern Chile.
· The project includes 188 mining rights with an area of 50,319 hectares and 250 exploration rights with an area of 69,800 hectares.
With the development of the lithium battery and energy storage battery industries, the importance of lithium resources will become more prominent, and the bargaining power of companies with lithium resources and their positions in the industrial chain will continue to improve.
3、Our Processing Plant Has a Good Performance and Continues to Produce High-Quality Products Steadily
(1)1H 2021 Results of Our Processing Plant

Note: In the first half of 2021, both revenues & net income increased significantly YOY.
(2)Tianqi's Lithium Compounds Production Capacity

ii. Excellent Process Technology and R&D Achievements
(1)R&D Achievements in the First Half of 2021

(2)Our subsidiaries Jiangsu Tianqi, Chongqing Tianqi and Shehong Tianqi have all obtained the Automobile Quality Management
System Certification issued by TÜV Rheinland Group
(3)Our technology center is identified as "National Enterprise Technology Center"
(4)Tianqi is awarded the title of "National Technological Innovation Demonstration Enterprise" issued by the Ministry of Industry and Information Technology of the People's Republic of China
(5)Our holding subsidiary Chongqing Tianqi obtained the Certificate of High-Tech Enterprise in March 2021
IV. Significant Achievements in Strategic Investment
i. The Performance of Our Participating Company SQM Has Grown Steadily
1、Performance Overview
· Good Profitability

· Revenues in the Lithium Sector Has Grown Substantially
2、SQM is Optimistic about the Lithium Market for a Long Time
· SQM believes that the fundamentals in the lithium market are stronger than ever and expects a demand growth of over 40% in the
lithium market.
· According to SQM's press release, the average prices during the second half of 2021 are expected to increase further as the market continues to tighten and the 2020 contracts continue to expire. SQM expects that the prices in the fourth quarter of 2021 could reach approximately US$10,000 per metric ton.
3、Successful Completion of Equity Financing
· A capital increase process of approximately US$1.1 billion raise was completed in April this year to help its finance and expansion projects.
ii. XTC New Energy Successfully Completed IPO
· Tianqi holds 2.25% stake of XTC New Energy, which is an important global manufacturer of cathode materials for lithium-ion batteries. XTC New Energy was listed on SSE on August 5, 2021.