Tianqi Lithium Wins Cross-border Investment Award at ACBAs
Tianqi Lithium Australia has been named as the winner of the Cross-Border Investment Award at the prestigious AustCham Westpac Australia-China Business Awards in Hong Kong last night.
Hosted by the Australian Chamber of Commerce and held in Hong Kong, there were awards presented across 12 different categories recognising businesses which have demonstrated strong commitment and leadership in promoting the relationship between the two countries.
More than $700 million has been invested into the construction of Australia's first Lithium Hydroxide Processing Plant by Tianqi Lithium Australia in Kwinana, and is testament to parent company Tianqi Lithium Corporation's commitment to becoming a mainstay of the local community and the broader WA and global economy.
Tianqi Lithium Australia General Manger, Phil Thick, who accepted the award in Hong Kong last night, thanked the judges for their recognition of the work Tianqi has been doing to strengthen the relationship between Australia and China.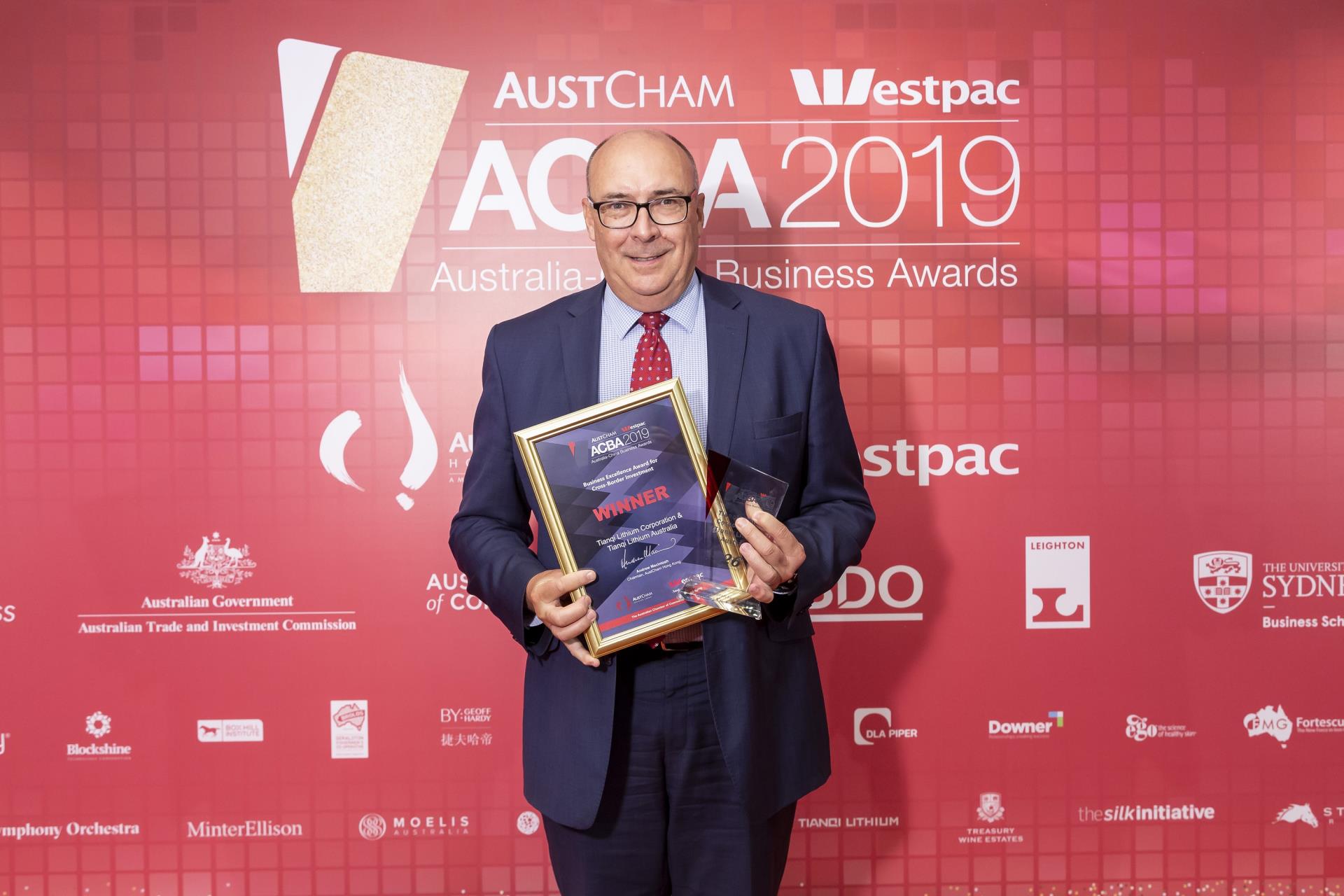 "This award reflects the hard work and innovative spirit of everyone at Tianqi Lithium.  As a company we are always encouraging our staff to think outside the box, challenge the status quo and push the boundaries on what can be achieved.
"The Kwinana plant is Tianqi's first fully automated lithium chemicals manufacturing facility outside of China. It will process high grade spodumene from the company's Greenbushes mine, and is part of Tianqi's commitment to serving customers worldwide from a new Australian facility and providing employment for hundreds of Western Australians," Mr Thick said.
Mr Thick also acknowledged the calibre of finalists across all categories and said he looked forward to sharing the win with Tianqi staff both locally and in China.
Construction of the plant has created over 1000 jobs and will provide more than 200 full-time staff production and operation jobs. In late 2018, all Tianqi Lithium Australia staff transferred from the Perth CBD to the Kwinana site. This has boosted the local community and demonstrates Tianqi's commitment to Kwinana where it runs a large program of community investments and partnerships through education, the arts and grassroots initiatives.
Tianqi Lithium would like to congratulate the winners across all categories and to commend the high calibre of finalists in the category and the important work they do in furthering the important relationship between China and Australia.
For 26 years the AustCham Westpac Australia-China Business Awards (ACBAs) has been a means of recognising Australian and Chinese companies working between the two countries in the Greater China region.